True color 3D ologramma evidente manomissione per Security Package
Pacchetto:

PP sacchetto e scatole di imballaggio di ologramma all'interno, scatola standard dell'esportazione e cinghia di bianco dell'imballaggio esterno

produttività:

10000000000

marchio:

LINEA DI CONTATTO

Trasporti:

Ocean,Land,Air

Luogo di origine:

Suzhou

Abilità del rifornimento:

1000000/Month
Informazioni basilari
Modello: YXCP-03
Tipo: Adesivo Adesivo
Materiale: ANIMALE DOMESTICO
Tipo di stampa: Stampa offset
caratteristica: Anti-contraffazione
uso: Adesivo personalizzato, Bevande in bottiglia, Etichette del prezzo, Etichette di spedizione, Packaging Film, Medicina
Size: Customized
Sample: Available For Free
Thickness: 30 Micron
Pattern: Custom Hologram Logo
Shape: Square, Circle, Oval, Triangle, Etc.
Color: Transparent, Gold, Silver, Etc
Feature: Anti-counterfeit, Brand Promotion
Other Security Features: UV Ink, Serial Number, QR Code
Holo Tech: Hidden Text, Micro Text, Flip-flop
Keyword: Hologram Security Sticker
Descrizione del prodotto
True color 3D ologramma evidente manomissione per Security Package
Caratteristica di vero 3D ologramma, ologramma evidente manomissione, Tamper proof ologramma
1) Ture ologramma 3D a colori
2) manomissione evidente caratteristica, Sub o a nido d'ape
3) colore cambiare display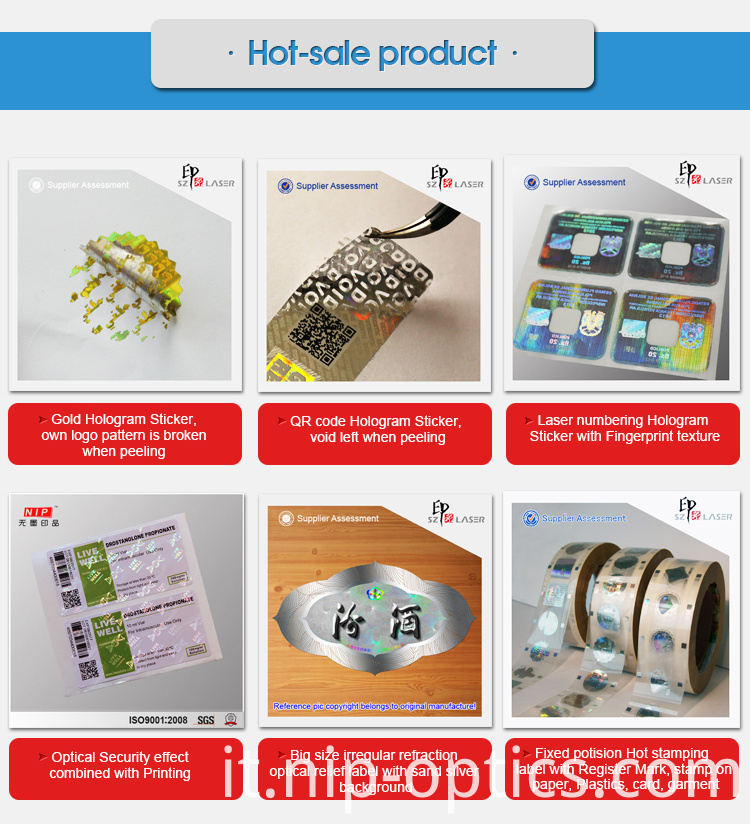 Specifica:
Material

30 micron PET material

Color

Transparent, silver, gold, green, etc

Size & Shape

Based on customers' requirements

Type

Tamper Evident Hologram

Pattern

Generic patterns or custom hologram

Combine with other processing

Serial number, QR code, logo printing, etc

Feature

1) Anti-counterfeit, colorful, brand protection

2) Eye-catching design help you win the market.
Ologramma di diversi tipi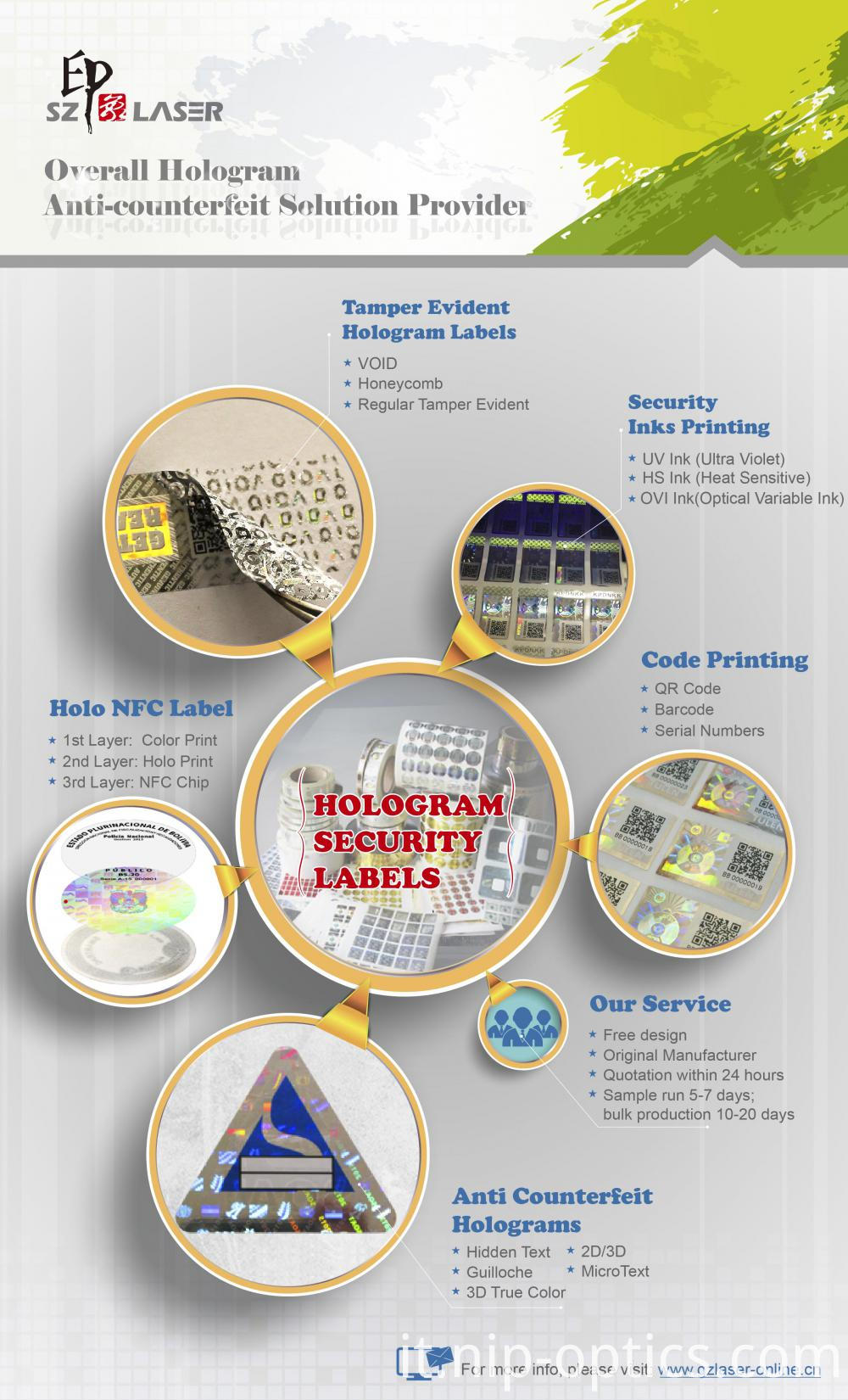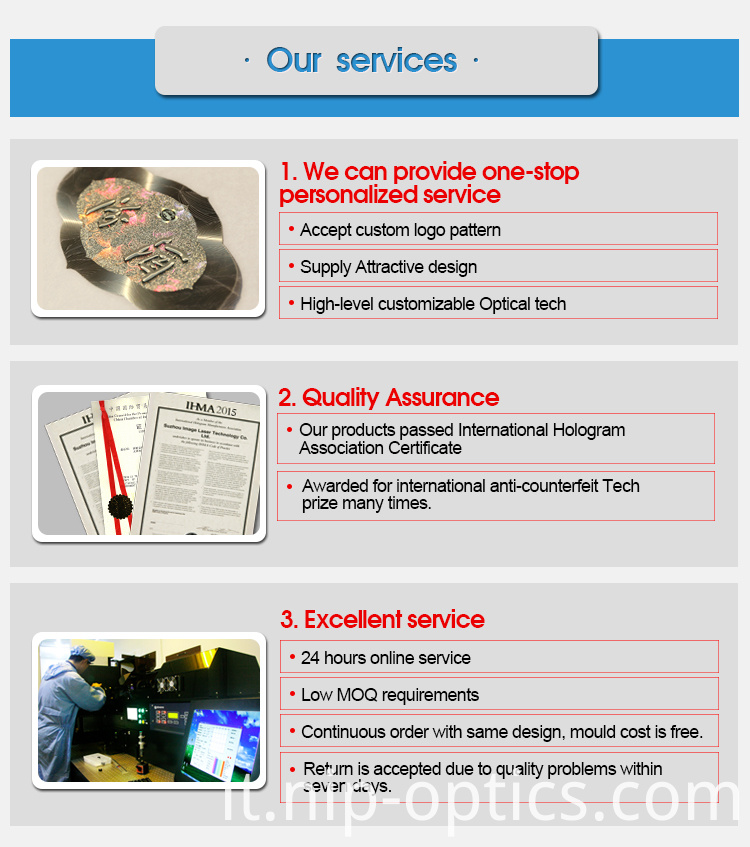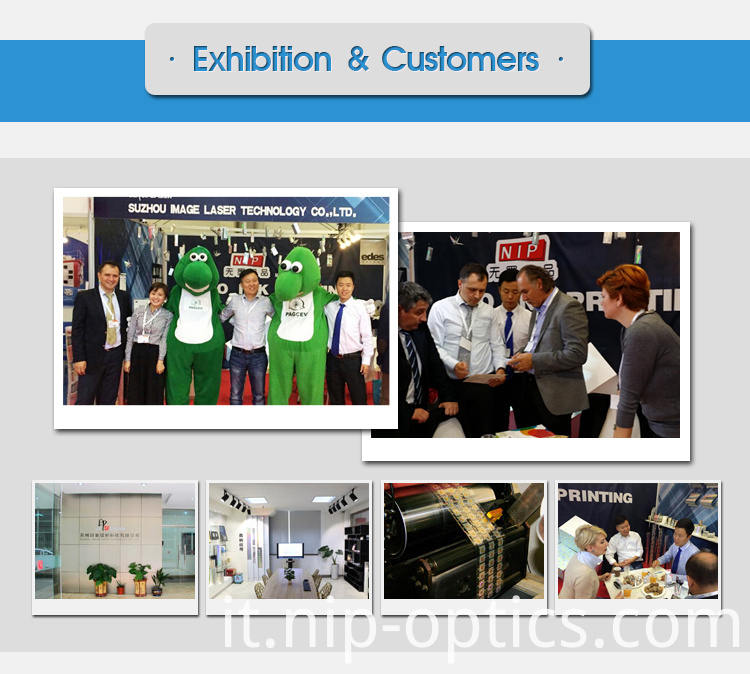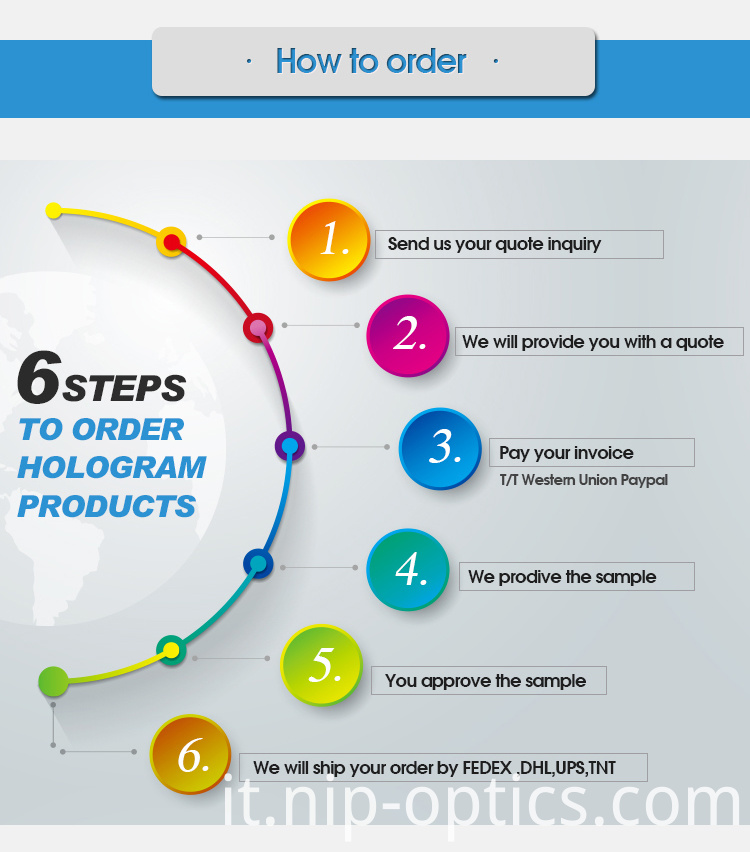 Domande frequenti
1. Qual è il tuo materiale adesivo?
Solitamente usiamo materiale PET con 25 o 30 micron di spessore, altro spessore come 15, 20, 50 micron sono disponibili anche.
2. potete fare anti-peeling o evidente dell'ologramma etichette tamper?
Sì, possiamo farlo come VOID, a nido d'ape o cliente logo.
3. qualsiasi forma, qualsiasi colore, si può fare per me?
Naturalmente, forniamo ologramma personalizzato. Rotondo, ovale, quadrato, triangolo, entrambi sono ok. Trasparente, argento, oro, giallo, ecc
4. potete inviarmi alcuni campioni di ologramma?
Campioni di sono disponibili, inviamo gratuitamente con freight raccogliere. Siete pregati di fornire il vostro conto express consegna o si prega di pagare il trasporto merci a noi. Organizzeremo i campioni al più presto.
5. posso utilizzare il vostro modello generico con il mio logo stampato?
Sì, possiamo stampare il vostro logo su sfondo del nostro modello generico, come GENUINE, sicurezza, ecc. È anche possibile aggiungere il numero di serie, codice a barre, QR code, ecc
Se volete maggiori dettagli, si prega di visitare il nostro sito Web: www.gzlaser-online.cn
Elenco prodotti : Ologramma adesivo > Ologramma 3D