Ologramma personalizzato adesivo facile apertura del nastro dello strappo
Pacchetto:

PP sacchetto e scatole di imballaggio di ologramma all'interno, scatola standard dell'esportazione e cinghia di bianco dell'imballaggio esterno

produttività:

10000000000

marchio:

LINEA DI CONTATTO

Trasporti:

Ocean,Land,Air

Luogo di origine:

Suzhou

Abilità del rifornimento:

1000000/Month
Informazioni basilari
Modello: YXCP-06
Tipo: Materiali anticontraffazione
Materiale: ANIMALE DOMESTICO
caratteristica: Anti-contraffazione
uso: Packaging Film
Sample: Available For Free
Material: PET Or Bopp
Keyword: Tear Tape
Pattern: Custom Hologram
Thickness: 28, 35, 36mic(general)/customiz
Color: Gold, Transparent, Silver, Etc
Width: 0.07 -5 Mm Or Customize
Feature: Anti-counterfeit Or Decoration
Security Processing: Micro Text, Optical Etching, Zoom In
Applicatioin: Medicine, Cosmetic, Cigarette, Etc Packaging
Descrizione del prodotto
Ologramma adesivo apertura facile lacrima nastro su misura
Caratteristica di ologramma apertura facilitata del nastro dello strappo
1) adesivo hot melt
2) easy open per imballaggio
3) Avialable in diverse dimensioni, logo, securiy caratteristiche
Abbiamo anche può Suply tutti i tipi di nastro adesivo lacrima come segue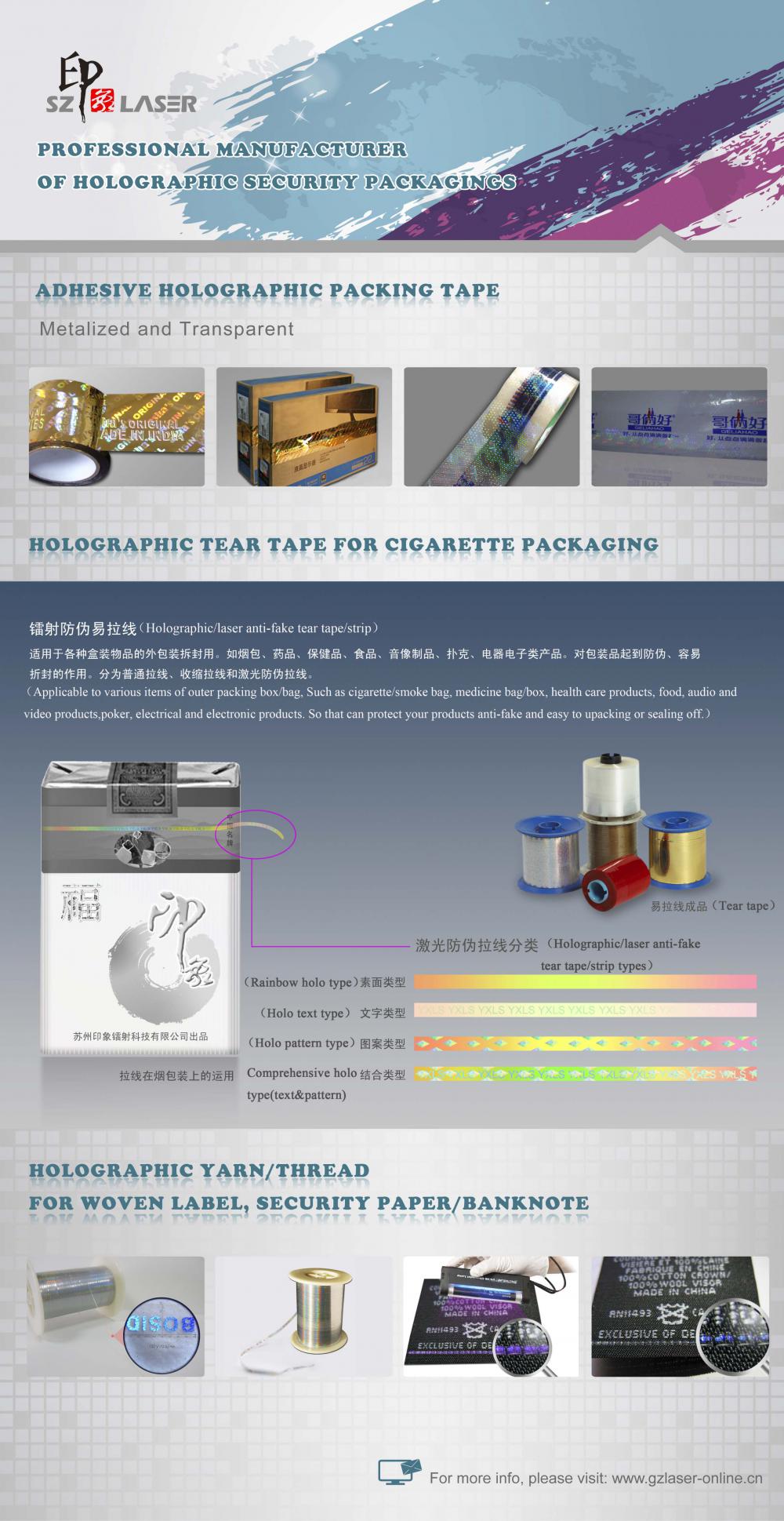 Informazioni dettagliate di ologramma Tear Tape
| | |
| --- | --- |
| Feature | With hologram security function |
| Material | PET, BOPP |
| Color | Transparent/Silver/Gold, etc |
| Price | According to different sizes/quantities/materials/processes |
| Pattern | Customize |
| Width | 0.7 -5 mm, Custom is available. Minimum size: 0.7mm |
| Thickness | 28, 35, 36 mic(general)/customize |
| Length of roll | 5000-10000 m per Roll , based on customers' requirements. |
Lacrima facile aperto nastro per imballaggio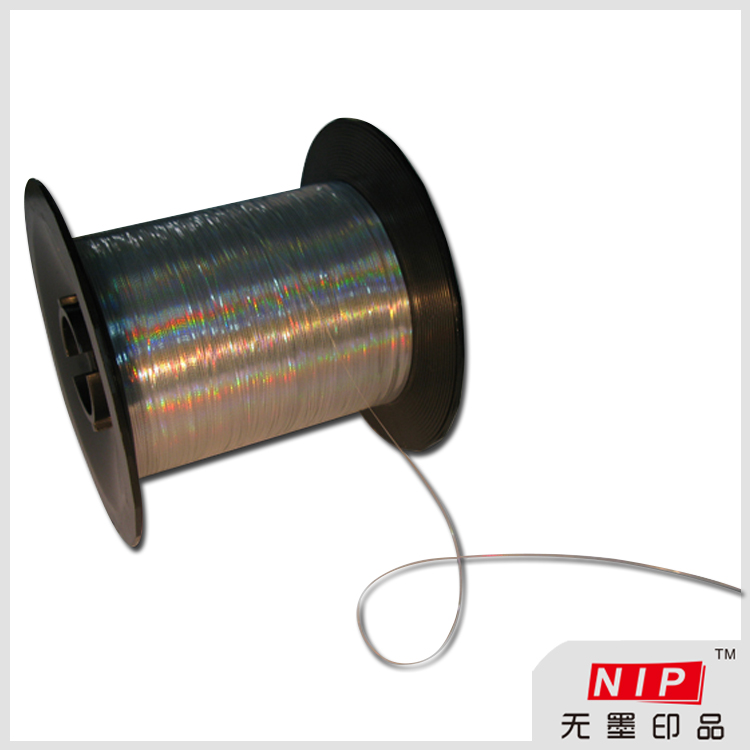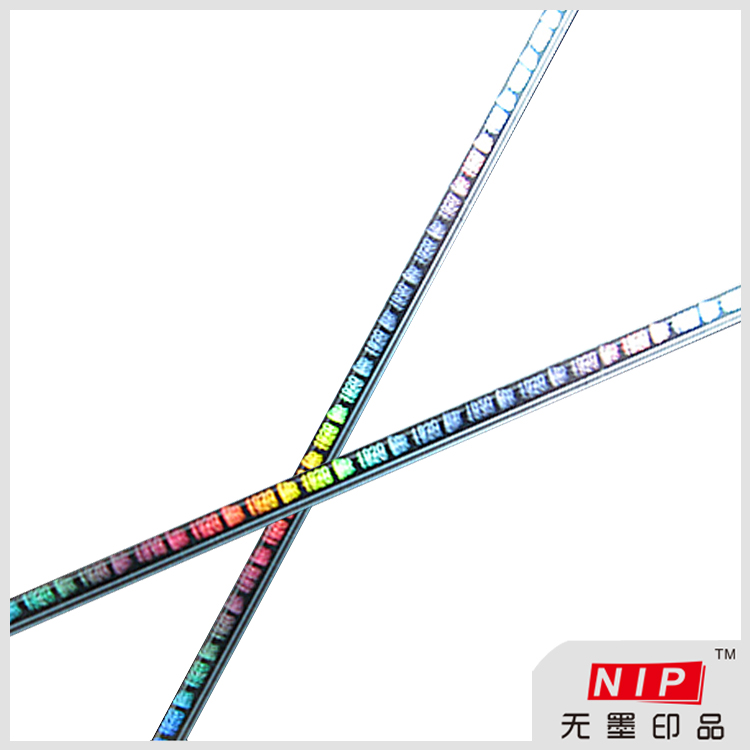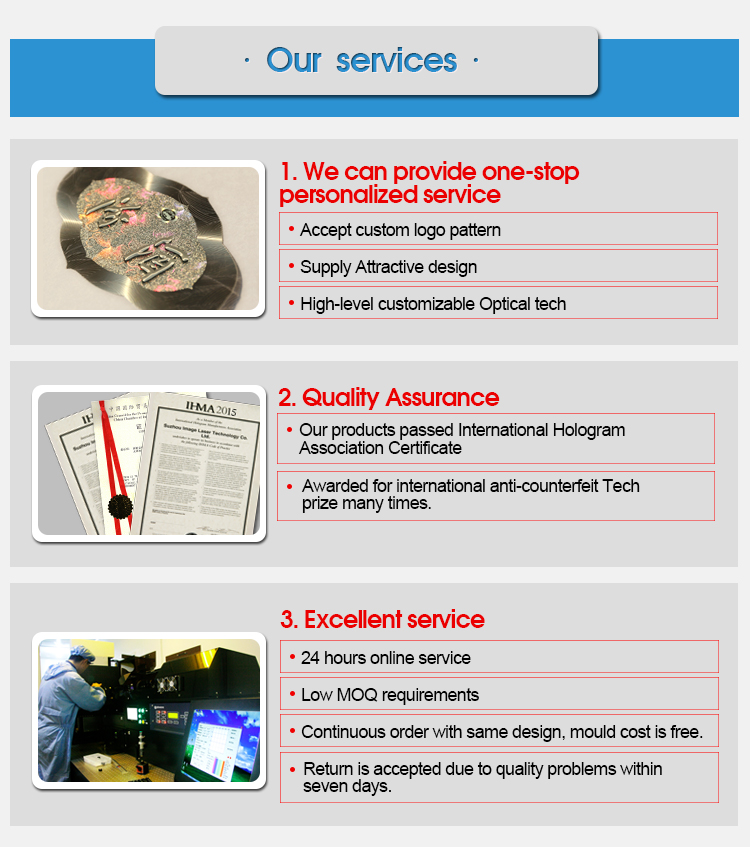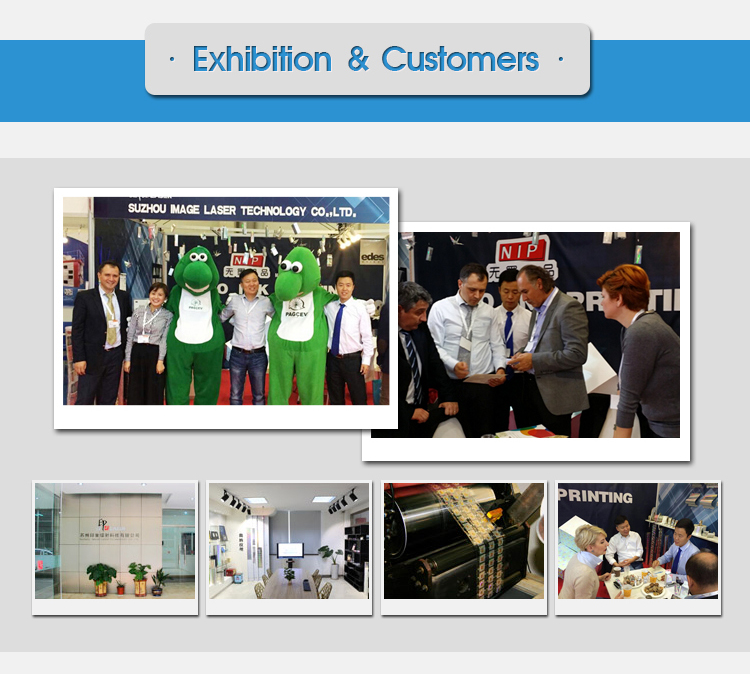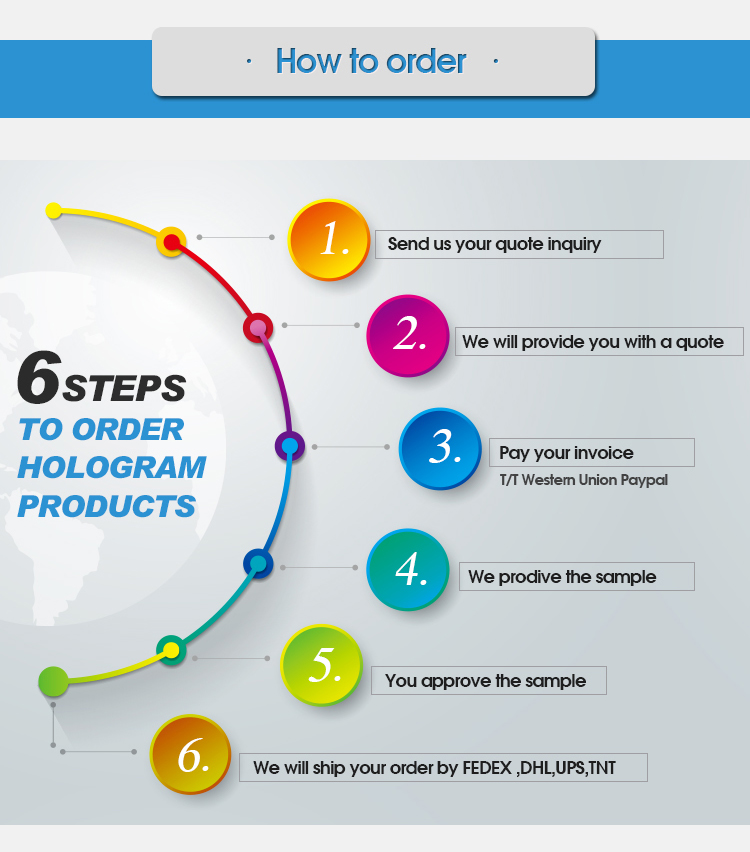 Domande frequenti
1. che cosa è il materiale del nastro lacrima?
Generalmente PET, materiale di BOPP con 28, 30, 33, 35, 36 micron, ecc
2. per nastro dello strappo olografica, qualsiasi specifica, qualsiasi colore, si può fare per me?
Sì, disponibile in varie specifiche e colori, come 0,7, 1, 2, 2,5 mm, ecc. Colore può essere trasparente, oro, argento, ecc. Questi possono anche essere personalizzati realizzati secondo le esigenze specifiche dei clienti.
3. potete inviarmi alcuni campioni di nastro lacrima?
Campioni di sono disponibili, inviamo gratuitamente con freight raccogliere. Siete pregati di fornire il vostro conto express consegna o si prega di pagare il trasporto merci a noi. Organizzeremo i campioni più presto.
4. posso usare il tuo modello di logo?
Naturalmente, il nostro team di progettazione professionale aiuterà progettazione di sorprendente effetto ologramma. Anche noi possiamo aggiungere Micro testo, testo nascosto, acquaforte pixel, ecc ad alta sicurezza tech per te.
Per maggiori dettagli, si prega di visitare il nostro sito, http://www.gzlaser-online.cn/ . Benvenuti a visitare il più nastro d'imballaggio di lacrima, filo di sicurezza per l'imballaggio.
    Del Pouch, a cardinal health product manufacturer in Philadelphia, USA, received one of the two highest achievement awards. Its packaging was developed by Pechiney Plastic Packaging, and the winning reason was to solve the problem of difficult packaging of ointments, lotions and oils. This single-dose package is...

Designer brand Jesus del Pozo Perspective Underwear

Designer brand Jesus del Pozo Perspective Underwear At the Pasarela Cibeles fashion show in Madrid, Spain on February 16, local time, models are presenting the latest work by designer Andres Sarda. 3. The charming body of the model is looming under transparent underwear and is sexy and seductive. Designers brands Jesus del...
Elenco prodotti : Nastro dello strappo olografico > Nastro dello strappo adesivo auto